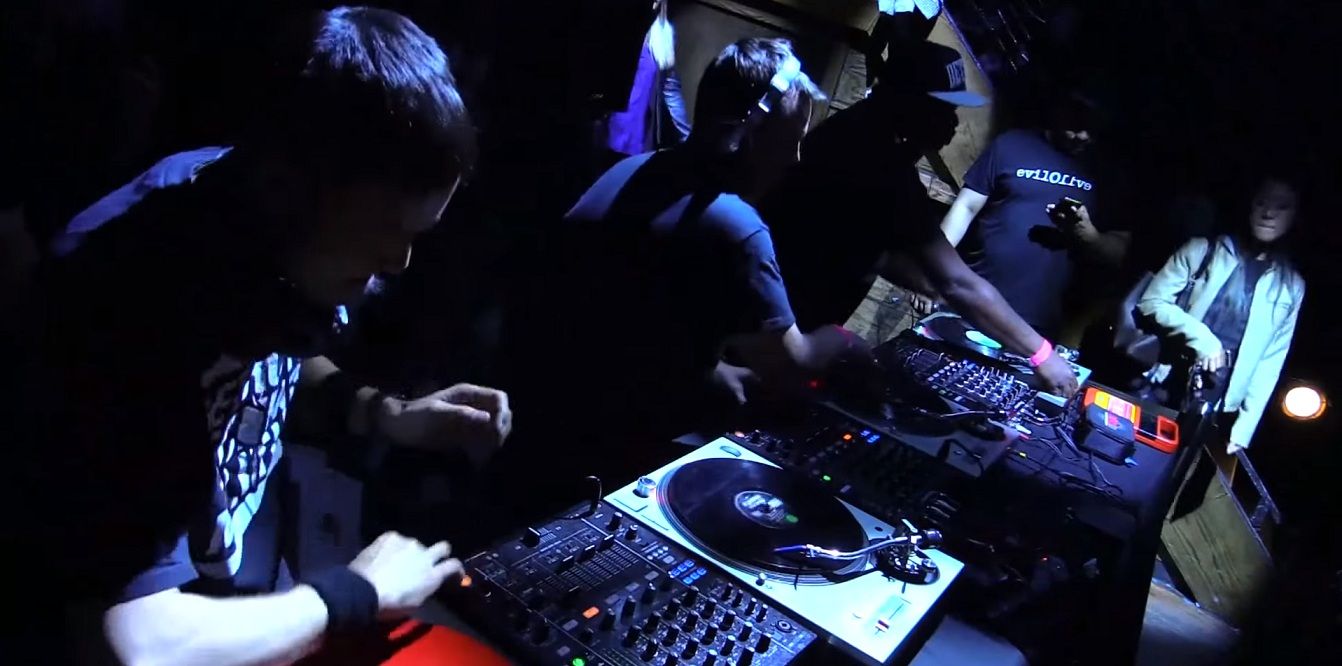 Now here's something you don't see every day. 3 guys, 4 turntables, 3 mixers, that's what Detroit Techno Militia (313 The Hard Way) did at Boiler Room Chicago. A lot of proper techno mixing, with some evident hip-hop influences (a lot of scratching). This sets features some of the evergreen tracks of Detroit techno and dance music in general. You can find the (almost) full tracklist bellow. I am usually against ripping other peoples tracklists, as I think that everyone should find their own sound, but it is not a crime to look up to these guys.
Detroit Techno Militia is a collective of DJ's amd producers from Detroit, that has a mission of spreading the Detroit techno sound around the globe. They launched their record label. They release vinyl and also digital releases under the sublabel "DTM Digital". You should also check out their internet podcast "The Grid" that is embedded at the bottom of this post.
In this time of "EDM", commercial influences on the scene, sync-laptop DJ's, celebrity DJ's and other shit that is out there, it is refreshing to watch some guys doing the real deal. Keep up the good work!
Tracklist:
01. A. Paul - Edge
02. Scan 7 - You Have The Right (T.Linder Remix)
03. Carl Craig - The Climax
04. Jackmaster - Bang The Box (Bang A Pella)
05. The Advent - After
06. T.Linder - Respect (Acapella, feat. Blak Tony)
07. Model 500 - No UFOs (Dub)
08. E-Dancer - Pump The Move
09. Winnettra - Elevator
10. Playboy - In Da Jungle (Mod Wheel Remix)
11. DJ Bone - Detroit Is...Hard
12. Mathew Jonson - Decompression
13. DBX - Losing Control
14. Wee Papa Girl Rappers - Heat It Up (Detroit House Mix)
15. Ben Sims - Smoke & Mirrors (Jerome Sydenham's Looking Glass Dub)
16. ?? Octave One - Blackwater (Chase The Blues Rebalanced Instrumental)
17. Moodymann - Shades Of Jae (Part II)
18. Paul Mac - More Over (Paul Mac's "Stimulus" Rework)
19. DJ Puff & Deeon - Work This M.F.
20. T.Linder & DJ Seoul - Beat 'Em Up (feat. Winnettra)
21. Plastikman - Spastik
22. Phylyps - Trak II
23. DJ 3000 & San - Hotel Oasiz (Robert Hood Remix)
24. Jel Ford - New Home
25. ZIx - Multivitamins
26. 313 The Hard Way - Break It Down (Loop)
27. James T. Cotton - The Dancing Box
28. The Vision - Detroit: One Circle
29. DJ Psycho - Wires
30. Cybotron - Cosmic Raindance
31. DBX - Phreak
32. D.z.D.z. - Still Loves The Acid (D.z.D.z. Chant Mix)
33. NWEO - Alien II
34. DJ Roach - Librado
35. Shady P - A Man In Reverse
36. Remy & Sven - Piano Power
37. Kenny Larkin - We Shall Overcome
38. Claudio Ponticelli - Mototopo
39. J. Garcia - I Got People
40. ??
41. Johnny Fiasco - Keep On Dancin'
42. ??
43. Fade II Black - In Synch
44. Jeff Mills - The Bells
45. Rhythim Is Rhythim - Strings Of Life (Remix)
46. Audion - The Pong
47. Underground Resistance - Transition (Acapella)