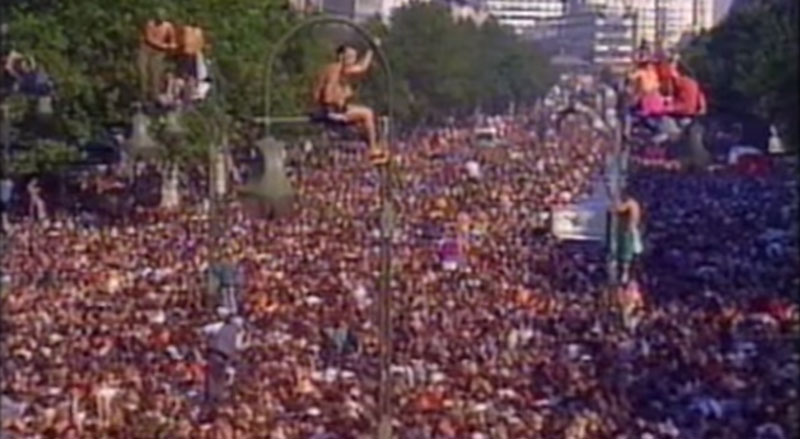 For those of you that are not familiar with this Berlin originated madness, Love Parade was a very popular electronic music festival, that started in west West Berlin, Germany back in 1989. It was an unusual event, especially at that time, and we have some videos to prove it.
Love Parade (Loveparade in German) was held in Berlin every year form 1989 to 2003, than again in 2006, and then was moved to Ruhr region where it was held in 2007, 2008 nad 2010. The event also inspired a number of similar events around the globe: Berlin, Hamburg, Munich, Frankfurt, Bremen and Hannover, Zürich, Geneva, Basel and Bern, Vienna and Salzburg, Austria Paris, Rotterdam, Bologna and Turin, Oporto, Sydney, Buenos Aires, Rio de Janeiro, Santiago, Leeds, Budapest, Tel Aviv, Mexico City and Acapulco, Oslo, Cape Town, Caracas, Little Rock, San Francisco, Sarajevo...
Finally in 2010 there was a huge crowd crush, where 21 people died, and over 500 was injured, so all the future events will be canceled. The event itself started as a political demonstration for peace and understanding, organized by a number of people from Berlin underground scene.
It was a great tragedy that this happened. But at least we can remember some positive scenes from this crazy events.
Lets start with one of the people that was a regular at this kind of events, and is a vital part of the scene till today, Sven Väth:
Sven Väth @ Berlin Love Parade (1998)
Than the same guy a few years later:
Sven Vath - Live @ Love Parade 2000
Than to make a smooth transition to another icon, Sven with Carl Cox back in 1999 (sadly, sound only):
Sven Vath vs Carl Cox live @ Love Parade 1999 Berlin
Next is Carl Cox alone, a year later, spinning among others, a classic from that time "Devilfish - Man Alive":
Carl cox at Love Parade 2000
Another well known name, Chris Liebing:
Chris Liebing Live @ Love Parade 2002
Now here's the 6 hour clip from the 1998:
Loveparade 1998 - One World one Future
I could go like this for a long time, but you can search the Youtube yourself, I just want to end this with some footage from the first on, back in 1989, just for you to see how it all started:
Loveparade 1989 - The 1st Edition