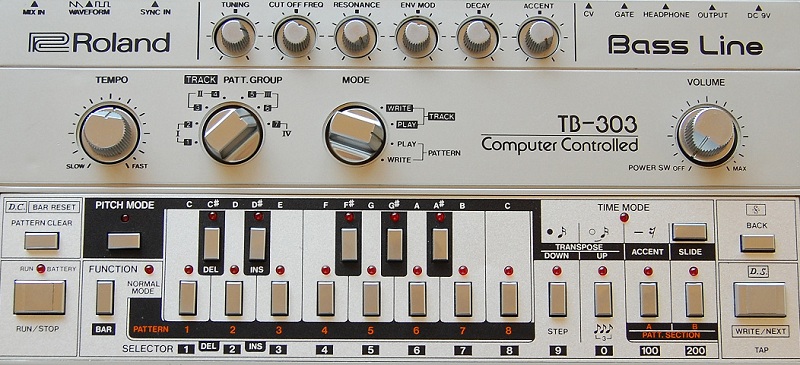 Originally a bass synthesizer, Roland TB-303 was intended to be a cheap device that will help guitar players to practice alone, thus replacing a bass player. I bet that its creators couldn't imagine the role that this device will have in the development of electronic music.
TB-303 had an built in sequencer and a single audio oscillator that could produce either a sawtooth or a square wave, also had a lowpass filter, envelope modulation with decay control and accent. Than machine was almost a complete failure at what it should be used for. It was hard to program the patterns, the bass sound was not convincing enough, overall it was faster to play the line on a proper bass guitar. It was completely unusable for the most of the pop music artists, its target market.
The real story starts here, thanks to a bunch of musicians that ware exploring non traditional sounds at the time. Some of them got their hands on some cheap secondhand units, and started experimenting with them. They abandoned the arrangement making process that used the limited pattern programming capabilities of the TB-303, and started playing with repeating single patterns. As the repeating of one pattern seamed boring, they started to tweak the knobs, and play the 303 as an instrument. The most interesting sounds were made when the pitch is shifted up, and all the rest knobs are tweaked in a way that it makes a "squelching" sound. Acid sound was born!
It will not take long time for house producers of that time to embrace this new sound and it will soon spread into Europe where it would be the soundtrack of the famous "Second Summer Of Love". In the summer of 1988. there was a huge wave of ecstasy and dance music all over UK, resulting with mass dance gatherings, there was even a drop in football hooliganism recorded in that time. In the same time the establishment saw this shift in behavior as a potential threat. Acid house was the music of that time (you can read a lot more about in this book). Some consider that Phuture - Acid Trax (1987) to be the track that started it all.
Phuture - Acid Trax (1987)
Apart from Chicago based house producers, some artists in Europe were following the wave, 808 State made a track called "Flow Coma" that featured several layers of the 303 sounds.
808 State - Flow Coma (1988)
Some producers that will later become very important in the development of techno adopted this sound very quickly and started building tracks around it. The harsh sound was well suited with the rougher beats that slowly separated the techno artists from the traditional house artists of that time that was more rooted in disco music. In my opinion that were the first crossroads between the two genres. Plastikman (Ritchie Hawtin), Robert Armani, Dave Clarke, Josh Wink, Underground Resisstance, Rob Acid, A Guy Called Gerald, Kevin Saunderson, Aphex Twin, Hardfloor... are just some of the artists that used TB-303 heavily in their track and later defined the techno genre.
Robert Armani - Circus Bells (Hardfloor Remix) (1993)
Even today many techno artist use the 303, some of them use the original machine, witch is getting harder to find every day, but most use the clones or the software emulated ones. There is also a new Roland machine that continues down the path of the 303 (Roland AIRA TB-3). We will have another article about all the hardware clones and variations, cause I don't want this one to get to long and too far from the main point. Nevertheless, the Roland TB-303 is the machine that (unintentionally) changed the history of music forever, and is still changing it today, here are some examples:
Al Ferox - Bigbadaboum (2015)
Thomas P. Heckmann - Tanzmaschine (2006)
Alavux - Rubber Girl (2015)
Nina Kraviz plays some Acid on Roland AIRA(2015)