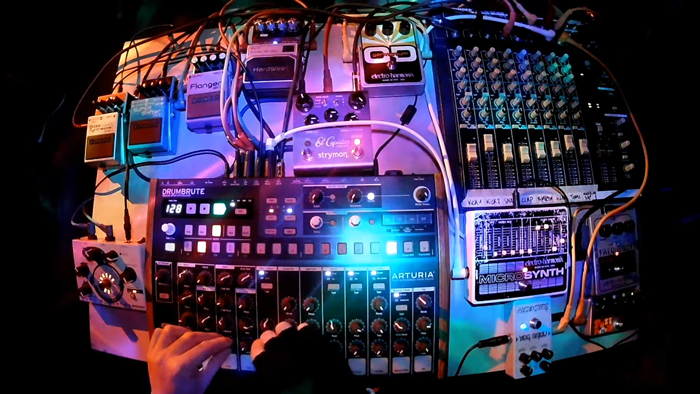 The news are not so often on drum machine scene, especially in the middle range. Few months ago Arturia decided to move things a bit and exactly in that range. Their analog machine called Drumbrute is currently the only machine that entered TR-8 territory, both with the price and capabilities. The machine itself is having a nice fat sound that got noticed by a lot of hardware enthusiasts, so the new tracks, reviews and demos are popping out on Youtube every day.
This guy Kablehead pushed the envelope a bit harder than the others with this series of videos.He hooked up 11 effect pedals to the outputs of the Drumbrute (since it has individual outputs per channel) and got to work. The first track is some nice minimal techno, based around bass drum sound. Check it out:
these are the pedals that he used for each output:
Kick 1 - WMD Geiger Counter
Kick 2 - Electro-Harmonix Black Finger
Snare - Boss CS-3
Clap - Digitech Supernatural
Hihats - Electro-Harmonix Neo Mistress
Rim - Boss DD-7
Hi Tom - Electro-Harmonix Holy Grail
Lo Tom - Electro-Harmonix Memory Boy
Cymbal - Boss AW-3
Maracas - Mid-Fi Electronics Pitch Pirate
Zap - Red Panda Particle
Aux send - Hardwire RV-7
The second one is a bit more banging:
This time the pedals are:
Kick 1 - Frostwave Sonic Alienator
Kick 2 - Boss SYB-3
Snare - Boss PS-5
Clap - Boss BF-2
Hihats - Electro-Harmonix Germanium OD
Rim - Hardwire RV-7
Hi Tom - Strymon El Capistan
Lo Tom - Electro-Harmonix Micro Synth
Cymbal - Electro-Harmonix Frequency Analyzer
Maracas - Subdecay Noise Box
Zap - Zvex Fuzz Factory
Aux send - Digitech Supernatural
He even got a track with 13 pedals, that is more into electro territory:
Here he used:
Kick 1 - Dreadbox Epsilon
Kick 2 - Strymon Deco
Snare - DOD FX25
Clap - Electro-Harmonix Small Clone
Rim - Boss VT-1
Hihats - DOD FX200
Hi Tom - Boss ML-2
Lo Tom - Boss DS-1
Cymbal - Zvex Ringtone
Maracas - Electro-Harmonix Small Stone
Zap - Zvex Instant Lo-Fi Junky
Aux send 1 - Hardwire RV-7
Aux send 2 - Electro-Harmonix Memory Boy
I really like his hands on approach, and relly dig that fat sounds. If you are a gear head, check this guy out.