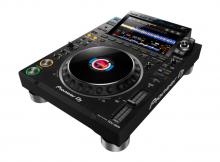 On Pioneer's DJ site (pioneerdj.com) you can find all te usual things, like product specs, images, prices and a few demo videos. A page for CDJ-3000 has a bit more. Pioneer posted six tutorial videos focusing on certain features of the player, that you may find acutally usable.
The features in question are:
8 hot cue buttons - the simple description on how to use hot cues, as well as how to save loops as hot cues
Dedicated beat jump buttons - how to set length of jump, turn quantize on and off...