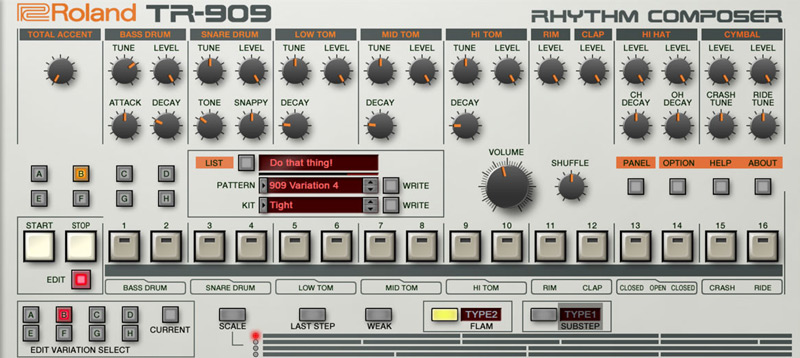 After the legendary TR-808, Roland Cloud got updated with another legendary machine. The machine that was produced back in 1983 (only 10 000 units) is still relevant today.
Roland states that with their next-generation circuit modeling technology, they are able to faithfully recreate the unique sound of th 909 that was originally based on the hybrid approach (analog circuits + sample based). They are promising that you will "finally have the authentic sound and vibe of a real 909 in your DAW". Samples that are used are from the original machine, and analog circuits and even original digital parts are emulated.
The machine also brigs some new features, it now has a full step sequencer for easier programing, each pattern has 8 variations for evolving, the sequencer has adjustable flams and sub-steps for fills and each instrument has its own "last step" and shuffle settings.
One more feature that can be very useful is that you can drag the sequences out of the plugin and directly into the DAW to make midi parts for other instruments to play.
For the TR-8S owners, huge thing is that they can import patterns from the machine to plugin, with all the parameters saved for further work.
There is a 30 day free trial, so check it out.