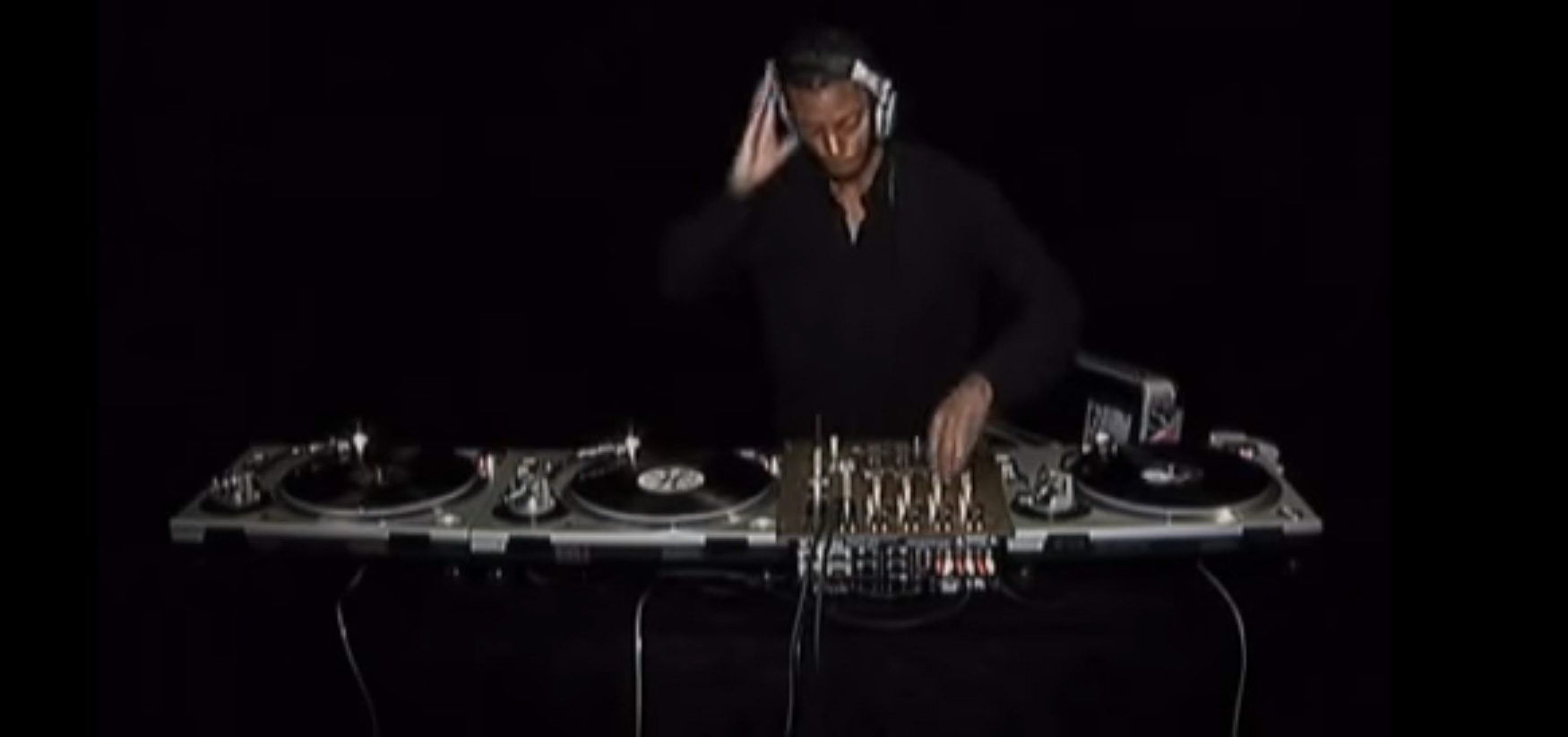 I understand that most of you have seen this one a long time ago, but I must post it for younger generations. If you are into real techno music, than this is a must watch. Originally releases back in 2004. as a DVD, this is one of the few videos back then clearly showing in detail what can be done in on a 3 turntable setup. Back then, you couldn't type in what ever in Youtube and instantly get hundredths of high definition videos showing you every detail. So for the techno heads of that time, this was pure gold.
About the mix itself, there is nothing much to say, when you have a master like Jeff Mills behind the turntables. He is displaying his unique style of mixing, very quick on the transitions, with some figures not typical for most techno DJs, letting you know about his background in different styles of music. The first ting that catches the eye is the quickness of his fingers, especially on the mixer. You get the feeling that he can't let them rest for more than a few seconds.
Some of you will complain about some small errors in beat matching and cueing, but don't worry, that's only modern DJ software with sync functionality talking, and you are missing the point. The beauty of this kind of performance is that it has a human touch, and you can hear it, even in the small errors.
For the ones hwo have to know every track, the track list is below the video.
Tracklist:
Jeff Mills - AX-009F Segment 3
Jeff Mills - Condor To Mallorca
Oliver Ho - Organic Synthetic
Samuel L. Session - New Soil (Dances D'Afrique Rmx)
Jesper Dahlbäck - Laget Hans
Alan Barratt - Zulu Nation Part IX : The End - The Witch Doctor (Remix)
Octave One - Black Water
Ben Sims - Moments (Dope Mix)
Victor Simonelli - Latin Impressions (UK Gold Remix)
Troy Geary - Slipped Again
Paula Temple - Contact
Oscar Mulero - B2 From CR007
WJH - Harmonix
Headroom - Ride The Threshold
Jeff Mills - The Bells
Samuel L. Session - Ricoque
Monika Kruse & Zafra Negra - Latin Lover (Voodooamt aka Patrick Lindsey Remix)
Jeff Mills - "The" Part 1
Jeff Mills - Preview
Danilo Vigorito - Knap
Andreas Saag - Camborele
John Arnold - Respectall
Jeff Mills - Tango
Jeff Mills - Untitled
Dan March - Sand Dune
Paul Mac - More Over
Gary Martin - Long Summer Nights
Aaron Hedges - Watching Me
DJ Rush - Midnight Confessions
Mark Williams - Talking Voices
Jeff Mills - 4 Art